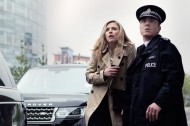 On Robbie's first day at Specialist Firearms Command, the guys haze him by faking a suicide jump and he wets his pants.
A terrorist calls an emergency dispatcher and warns of a bomb planted at the Thameside Exhibition Center. The commissioner meets with Liz and the team to decide how seriously to take the threat.
Miller calls an unidentified woman and warns her to stay away from the possible bomb site.