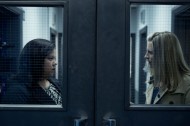 During a training exercise, Robbie is reprimanded for failing to "shoot" an armed and dangerous female.
Liz meets ex-boyfriend Granger at a bar and ends up going home to his flat and getting high on cocaine.
Commissioner Miller asks Liz to obtain a retraction from a his favorite newspaper after spotting an article which calls one of his legendary acts of heroism into question –the article suggests that Miller only saved two, rather than three, men from a fire bombing early in his career. Liz agrees without getting details and proposes her new idea: the Metwork, a Metropolitan Police Service news division, which would air both positive and negative police-related stories instead of feeding the information to unpredictable press.