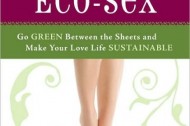 In honor of the 40th anniversary of Earth Day coming up tomorrow, April 22nd, we had a chat with Stefanie Iris Weiss about her new book Eco Sex: Go Green Between the Sheets and Make Your Love Life Sustainable.
How does going green improve your sex life?
If your sex life has gone stale, greening it up instantly relights the spark. Green is healthy, and being healthy automatically grants you a superior sex life. You'll have more stamina, a heightened libido, a slim, sexy body. What could be better?
How can you make dating more green?
When prepping for a date, use paraben-free products made from USDA-certified organic ingredients, or even better, go DIY and make your own. When it comes to the traditional dinner date, choose restaurants that serve locally grown, organic, sustainable and fair-trade food. Try a vegan or vegetarian restaurant or a homemade feast of raw or vegan food to seduce your lover. And when you're on your way to meet your date, opt for public transportation, bike, or walk to your rendezvous point. Leave the car at home — you can find a new version of the back seat if you get that far.