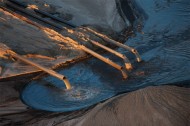 Photo credit: EcoWatch
This week the GOP leadership, once again, has sided with Big Oil against the will of the American people. They are trying to circumvent President Obama's decision to further investigate the impacts of the controversial Keystone XL tar sands pipeline. GOP leadership is instead advocating for granting the permit now, or else they will hold up important legislation meant to benefit real people's real lives.
They want you to believe it's about jobs, but that's not what the facts bear out. Just take a look.