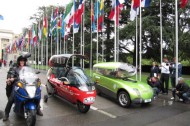 A zero-emissions race around the world, whiskey biofuel, and more… your green tech finds for the week.
Energy efficient motors mean green jobs in Arkansas: Electrocraft, Inc. has announced it will start producing energy efficient electric motors for heating and air conditioning units in its Searcy, Arkansas plant. This means 55 new green jobs for the small town.
Cell phone tech meets data centers: Data centers (aka server farms) suck up a lot of energy. Start-up Smooth-Stone thinks it can cut that power use by applying "low-power cell phone technology to servers…" A number of VCs think they can do it, and have provided $48 million in funding.