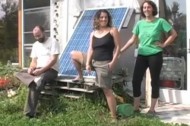 Trailer for "Empowered: Power from the People" from Shira Golding Evergreen on Vimeo.
Sure, you'd love to power at least part of your home on renewable energy, but the local infrastructure isn't there yet: no nearby wind farm, no solar or geothermal installers. And, besides, it really isn't that windy where you live.
That's the kind of mindset that fossil fuels have given us: we really can't go out and drill our own oil and gas, or mine our own coal, so we've assumed largely that energy is something that others have to provide for us. But part of the beauty of renewables is their availability: we all get some sun, wind, or geothermal heat, and with a little elbow grease, we can harvest that energy – no power company or massive centralized plant needed.