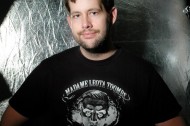 An interview with Joshua Grannell about his new film All About Evil.
Your directorial debut All About Evil is touring the country right now. Tell me a little about the film.
It's a black comedy set in the world of an old horror movie about a woman who inherits her father's failing old repertory movie house in San Francisco. In order to save the family business she starts grinding out her own homemade gore films that the public loves. What the audiences don't know is that she's actually murdering her actors.
You have a brilliant cast, many of whom have cult followings. How did you end up working with Natasha Lyonne, Mink Stole, and Elvira?
Some of the cast were friends of mine like Mink Stole and Cassandra Peterson (Elvira) who I'd known through doing shows together as part of my Midnight Mass event. I just called them up and sent them the script and they said they'd do it. I love them both soooo much! And I am really grateful for their friendship. Thomas Dekker I met through producer Darren Stein and when I met Thomas, we really hit it off. We love all the same weird stuff. Natasha Lyonne was introduced to the project through our fantastic D.P. Tom Richmond who'd shot her in The Slums Of Beverly Hills. We also did auditions in both SF and LA for remaining parts and I'm really proud of the whole cast.