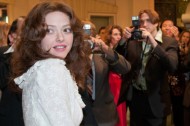 Finally, the weather's about to heat up here at Sundance – and we think we know why. How about Amanda Seyfried making her much-anticipated debut as Linda Lovelace? That and more make for one hot day in chilly Park City!
LOVELACE 9:45P Eccles Theatre
DEEP THROAT, the first pornographic feature film to be a mainstream success, was an international sensation in 1972 and made its star, Linda Lovelace, a media darling. Years later the "poster girl for the sexual revolution" revealed a darker side to her story. Amanda Seyfried sizzles in the starring role; Peter Sarsgaard plays charismatic hustler Chuck Taylor, who launches Lovelace's career.