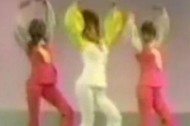 Beyoncé Copycat Vs. Gwen Verdon (Choreography by Bob Fosse) from Street Blabber (ex-Urban mag) on Vimeo.
What he may have lacked in decorum, Kanye West made up for with honesty when he stormed the stage at the 2009 Video Music Awards and interrupted Taylor Swift's acceptance speech (people reading this a decade from now will say "Taylor who?") to announce "Yo Taylor, I'm really happy for you. I'll let you finish, but Beyonce has one of the best videos of all time. One of the best videos of all time!"
When you consider the wide ranging influence of the music video for Beyonce's "Single Ladies," you can't deny that in retrospect, Kanye was absolutely correct.