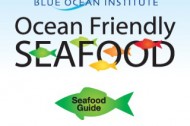 Fishy iPhone apps, soy car parts, and another solar Air Force base… this week's green tech finds.
Sustainable seafood and wine? There's an app for that… The Blue Ocean Institute and Brancott have launched the free Fishphone iPhone app, which not only provides sustainable seafood information on the go, but also suggest wine pairings.
The eco-travel planner: The Rainforest Alliance has beta launched its new sustainable travel guide and planner, SustainableTrip.org. Currently focused on south of the border destinations, the site features tour operators, hotels, restaurants and other amenities that have been certified by reputable NGOs.