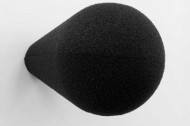 "The Statistical Clock"
Design/art collective Dunne & Raby don't actually call themselves artists. Anthony Dunne is a design professor at the Royal College of Art in London and Fiona Raby has a background in architecture, but unlike design studios that specialize in creating fonts or objects or furniture, Dunne & Raby make projects that "use design as a medium to stimulate discussion and debate about the social, cultural and ethical implications of existing and emerging technologies." Their work is in the permanent collections of the MoMA, the Victoria & Albert Museum, Frac Ile-de-France and FNAC.
To give you an idea of what those discussion-generating projects are like, let's take a look at "Do You Want to Replace the Existing Normal?" (2007/08), a four-part installation that anticipates design in a "time when we will have more complex and subtle everyday needs" as opposed to our current "unimaginative and practical" desires.