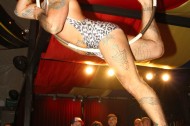 Photo credit: Wilsonmodels
With the extravagantly colorful crowd it attracts, "Amanda's Big Top" doesn't even need a carnival décor. It's already a three-ring extravaganza, with club kids, muscle bears, wandering tourists, and a guy with masking tape on his mouth all convening every Wednesday to put the carnal back in carnival.
But even if it seems a bit redundant, the physical setting is YouTube-perfect, making this the de rigueur event of the week for those on the edge and not afraid to dangle there. Held on the "Carnival" level of Bowlmor on University Place, the bash (promoted by Kenny Kenny and Joey Israel) is set under a pseudo tent in a post-modern amusement arcade lined with Coney Island-style games to work out your aggressions on. Throw a ping pong ball in a goldfish bowl or knock down a clown doll with a softball and you win an assortment of aptly esoteric prizes like paisley dolphin dolls and neon anal beads.