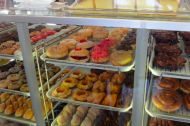 Watch "Love Lust: Breakfast" on Monday, November 14th at 8pm.
I never really understood the allure of the food crawl. Sure, there's the obvious pleasure of going from place to place and gorging on food, but I wasn't particularly enthused by the prospect of the aftermath of said gorging: belly bulge, greasy mouth, the inability to move from the fetal position for the rest of the day. Aside from holidays, Chinese restaurants and the days I'm cranky or sad or happy and need to eat my feelings, I like to eat when I'm hungry and stop when I'm not. So um, really, hardly ever.
But then the idea of a donut crawl started circulating in my head. Every day I pass by three donut shops on my way to work, and then again on the way home. Located on the same one-mile stretch, they called out to me as I drove by. "Donut crawl. Donut crawl. Donut crawl," they seemed to say. I couldn't stop thinking about it, couldn't shut up the voice that kept pulsing inside of my head. So finally, after weeks of taunting, I commissioned my best friend to join me in my gluttonous mission. We picked an upcoming Saturday and set a starting time and place. "No turning back now," I thought with a mixture of excitement and disgust. I could practically feel the impending stomachache that I would surely incur from embarking on this gastronomical misadventure.