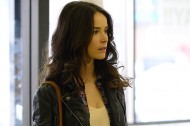 Daniel takes a bus to Atlanta and wanders through the streets, marveling at the hustle and bustle.
At home, Teddy lounges on the couch in a disheveled state. Tawney asks why he's unhappy, even after she signed the loan papers. He explodes, saying he's still upset that she had feelings for Daniel. She leaves angrily. He guzzles a beer.
Amantha starts to pack for a move back to Atlanta. Janet calls to invite her to the movies and asks Amantha to stay in Paulie.