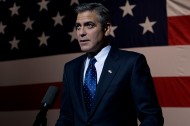 Corruption and politics go hand in hand. But in the movies, matters get even more extreme with senators who mind-control and presidents who unleash diseases on the populace. Clearly, House of Cards' Frank Underwood would fit right in with the top ten deviant politicians ever to hit the big screen. Find out more about Underwood on THE WRITERS' ROOM: "House of Cards," Fri., May 2 at 9PM/8c. Until then, consider his back-stabbing cohorts.
1. Adam Sutler (John Hurt), V for Vendetta
By releasing a plague intended to wipe out "social deviants," Sutler secures power for his oppressive political party and establishes a fascist regime.
2. Bob Alexander (Frank Langella), Dave
It's not enough that Chief of Staff Alexander replaces the comatose prez with a lookalike. He also frames the dupe for an S&L scandal he orchestrated.