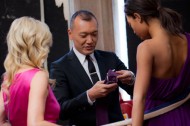 BEGINNING NOVEMBER 2011
Original Series Starring Creative Director of Elle Joe Zee
Will Conclude its First Season on May 24th
New York, May 24, 2011 – Sundance Channel announced the renewal of ALL ON THE LINE, the fashion-rescue series starring Creative Director of ELLE Joe Zee. The series wraps its first run on Tuesday, May 24th at 10:00PM ET/PT.
Since the series premiered in March, Sundance Channel has exposed viewers to the always intense and not so glamorous, behind-the-scenes world of fashion designing. Behind the glamour of the red carpet are tears, hard work and passionate designers struggling to shine in a world of hopefuls. In the second season, Zee will be faced with the daunting task of working with a new group of designers with the same problem; a glitch in their design or business that is putting them at risk of losing it all. He hopes to encourage designers to stay true to their vision, while recognizing when their design or business plan is standing in the way of their commercial success. Feeling like experts in their own right, not all of the designers will be up for the challenge of accepting Zee's constructive criticism, causing tension and sparking emotion.
Sundance Channel EVP and GM Sarah Barnett commented, "ALL ON THE LINE stands out among fashion programs because it's based in the real world, with real stakes and real results. Viewers have embraced this authenticity, are enamored with the unpretentious fashion genius Joe Zee and look forward to seeing him back in action."