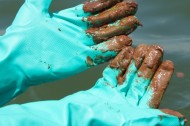 The glove-covered hands of Dan Howells, deputy campaign director with Greenpeace, are coated with a layer of oil after he dipped them in oil floating on the surface in the Gulf of Mexico following the BP Deepwater Horizon oil spill near Grand Isle, Louisiana, June 10, 2010. AFP PHOTO / Saul LOEB (Photo credit should read SAUL LOEB/AFP/Getty Images)
Like most Americans, I am horrified by the unending catastrophe in the Gulf of Mexico. Even with the latest containment cap in place, oil is likely to hemorrhage from BP's ruptured well until August or beyond.
As I try to convey in my new video, "The Fix," I am appalled by what this spill is doing to Gulf fishermen, families, communities and wildlife. But I am also disgusted by what it reveals about the oil industry's role in American political life.
With their deep pockets, oil companies have purchased loose safety regulations, slack oversight and support from key lawmakers. Last year alone, the industry spent a $168 million on lobbying — $16 million of which came from BP. The blowout on the Deepwater Horizon is a symptom of this undue influence.
It is time for the collusion to stop. As long as it continues, Americans will pay the price in the form of devastated ecosystems and a fossil fuel addiction that benefits oil companies, not ordinary citizens.