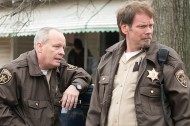 Daniel is visited by the ghost of Kerwin, who tells Daniel to wake up.
At an Atlanta hospital, Amantha and Janet panic as Daniel struggles to emerge from an induced coma. Nurses rush in to put him back into the coma.
While at the scene of Daniel's attack, Lid tells Carl that a witness saw a blue truck leave the cemetery. Carl insists on finding the attackers despite Lid's warning that it will hurt his reelection chances.