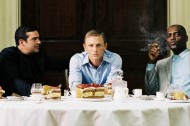 Each actor to step into MI6 Agent Bond's shoes has made the role his own–we've had some suave womanizers (Roger Moore, Pierce Bronsan) and some fierce menacers (Sean Connery, Daniel Craig)–and through it all the action franchise has remained a swaggering and unstoppable force at the box office. It's a lot of pressure to be cast as a Bond, and it's no surprise that the lucky men who've filled the role each needed some action-thriller practice to cut their teeth. Below we've compiled a list of our favorite action pics starring Bond actors, before their stint as the legendary spy.
1. Layer Cake with Daniel Craig
Two years before his first Bond pic Casino Royale, the actor was being primed for stardom via this well-crafted British crime thriller. Craig plays "XXXX," a London drug kingpin on the verge of retirement who finds himself knee-deep in the drug trade. With its impressively styled action sequences, Layer Cake is more than 007 1.0. It's also a modern action classic.