Corey Haim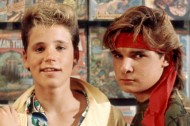 Okay '80s film fans: Is it Corey Feldman or Corey Haim for the win?
We were too young to realize it at the time, but Corey Haim's LUCAS (1986) showed us exactly why the band geek makes a better boyfriend than the captain of the football team. Rest in peace, Corey Haim — you may not have been the most eloquent cast member of the reality show The Two Coreys, but the wisdom of your characters continues to ring true. Here are our top ten favorite on-screen Corey moments — heavily favored toward LUCAS, of course. What can we say? That kid was a hero:
1. From LUCAS (1986)
Maggie: You know how wonderful you are?
Lucas: Yeah, but it doesn't turn you on, does it?
2. From DREAM A LITTLE DREAM (1989)
Bobby [Corey Feldman]: Dinger! Dinger, wake up for a minute. I gotta talk to you, Buddy.
Dinger [Corey Haim]: Bobby, I'm asleep. I'm fast asleep, Bobby. I'm dreaming. Apache women. Mai-tais. Vanna White and a whip.
Bobby: I'm in love.
Dinger: That could be a problem.
Bobby: I don't think you understand.
Dinger: No, no, I do understand. I really do. Which hand is it this week, pal?