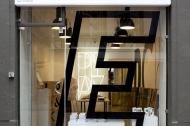 Photos from dezeen.com
There are certain things that even those most averse to online shopping will concede to buying online, mainly because they have no other choice. E-books, for example, aren't sold in stores. Domain names, web hosting, mp3′s – all these must be purchased on the Internet for the obvious reason that they lack a physical space and can, therefor, not be stocked in a physical store. The same used to be true for fonts. A designer creates a font and you buy the rights, download the font and use it in your work. It only becomes physical when you hit print.
The creative minds behind e-Types have thought a lot about this concept and how it applies to their heretofore online-only type foundry Playtypes. Then they came up with the idea for "the world's first brick and mortar type shop": Playtype, type foundry and concept store.