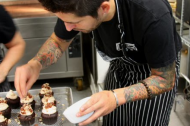 Careful, there's foie gras in those cupcakes!
Watch LUDO BITES AMERICA every Tuesday at 9P
More savory wit from our featured food blogger Diana Hossfeld, who writes the food blog Diana Takes a Bite.
The first time I ate foie gras was two years ago at Ludo Bites in Los Angeles. I hated it. The muddy-colored lobe had been chopped into thumb-sized chunks and surreptitiously slipped into a miso soup with rhubarb, hibiscus and beets. I didn't understand it – I didn't want to understand it. I just wanted it to go away. And I wanted to replace it with things I was used to ingesting in my miso soup – tofu, seaweed, shiitake mushrooms – not foie gras.