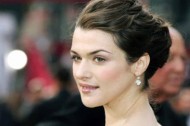 Just like she did in her 2005 Oscar grabber The Constant Gardener, Rachel Weisz is bravely battling corruption again. In the just-opened The Whistleblower, Rachel's an ex Nebraska cop who winds up a U.N. peacekeeper in Bosnia, where it turns out that organization is trying to cover up a gigantic sex trafficking scandal. If you think she shuts up about it, you don't know Rachel Weisz.
After a special screening in New York the other night, Weisz (the new Mrs. Daniel Craig, by the way) kept blabbing, this time about her diverse career choices.
Here are her most memorable comments.