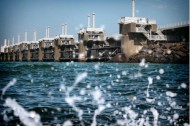 White House solar panels, recycling your Xbox, and the top green cars… your green tech finds for the week.
Plug-and-play solar… we're getting there: Start-up Armageddon Energy is scheduled to release its SolarClover system, which can be installed by non-specialists, later this year.
Finnish town joins the Concerto: The Concerto Initiative, that is. Lapua, in Western Finland, will participate in this EU-sponsored project to build local energy self-sufficiency and efficiency.
Cape Wind a go?: After years of wrangling, the Obama administration has given a green light to the Cape Wind project… but the opposition is already threatening a lawsuit, according to the Huffington Post.