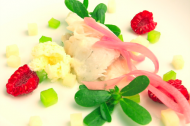 Watch LUDO BITES AMERICA Tuesdays at 9P
More masterful cooking from our guest blogger Justin, who, along with his wife, Lori, writes the food blog The Gastronomic Duo, a blog dedicated to couples cooking together in the kitchen and enjoying food with one another in their home.
I'm going to be straightforward here. I think ceviche is best served as the rustic and simple dish that it historically is: a poor man's meal conceived as a way to get rid of fish and reduce waste on its last palatable day via light pickling. I'm also going to say that when done right, it's a total delight. That's why this SUNfiltered post is so exciting to me. When I read the recipe, I wanted to transport myself immediately to my Minneapolis kitchen and try it. I thought, "Wow, this is ceviche taken to the next level." Milk granita, cucumber water and blackberries. I was delighted to give this recipe a shot. Maybe it would change my viewpoint on ceviche forever.