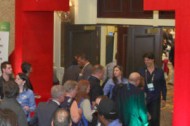 Will 2010 be a good year for green tech? Looks like it from the first finds of the new year…
Green tech at CES: It's that time of year again… the 2010 Consumer Electronics Show opened today in Vegas, and CNET is keeping on top of green tech on display.
The sun doesn't shine all the time: That's one of the criticisms of solar power… but start-up Sun Catalytix thinks it might have a solution to storing energy produced when the sun is shining: mimic photosynthesis.