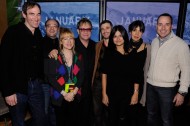 From left to right: Josh Sapan (Rainbow Media), Martin Katz (Prospero Pictures), Lynne Kirby (Sundance Channel), Sir Elton John, Evan Shapiro (IFC/SUN), Mala Chapple (Sundance Channel) Sarah Barnett (Sundance Channel) and David Furnish.
I usually have a rule: If you love someone's work NEVER meet them. Seriously – I've suffered too many disappointments over the years. And really – if you know someone's a walking septic tank – how can you enjoy their work afterwards? It's like Pearl Cleage wrote in Mad At Miles, "How can you celebrate a genius in the face of a monster?" But this week has proven the rule wrong. Twice. First Danny, now Elton John.
Last night, Rainbow Media and the Sundance Channel held a big dinner at the Stein Erickson Lodge and my Tiny Dancer was there (he executive produced SPECTACLE ELVIS COSTELLO WITH… along with David Furnish) with hubby David Furnish – who once came to my 30th birthday party with Cornelia Guest at the Sunset Tower. He didn't remember, but who cares? I got the pics to prove it!