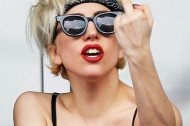 GaGa shows off to the press. That's my girl! Photo by Nick Laham / Getty Images.
With it being summer, I thought I'd put together a little cheat sheet about what's hot in my imagination for this summer, my summer in the city.
LADY GAGA
Let's face it, the last two years have been years of Gaga, but there is something so personal about her music and her style that inspires me every day. From the mini short clad dancers in her new "Alejandro" music video, to her whimsical display of her middle finger at major sporting events, there's nothing not to love. Lady Gaga's adoration for her fans is something that everyone who is blessed enough to have fans should learn from. There isn't a morning, day or night in these hot months that I am not rocking my "Poker Face."
FASHION
Summer fashion isn't always something that I go for, I have disproportionate leg muscles which can make shorts and issue, and my skin is paler than Casper's, but I love letting some skin show and making my skinny rib statements on every hot, sticky, miserable day. Chanel has some amazing tanks from their summer collection, Garreth Pugh put out an insane pair of leather leggings for those frisky nights out grinding to the "thumpa thumpa" and J Brand has introduced "Jegging" shorts, which are basically denim inspired biker shorts that make my booty look glorious. I may prefer bundling up in fur for winter, but this summer there are a lot of hot things to try.