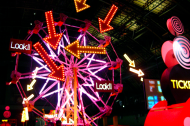 More pictures after the jump.
While waiting in line to buy tickets for the Park Avenue Armory's carnival this past weekend, an elderly woman behind me shouted up to her friend in a thick, British accent, "This place isn't in very good condition, is it?" She was referring to the Armory's entrance hall, built in Renaissance Revival style between 1887 and 1881 by "the elite" Seventh Regiment. The sixteen period rooms on the first and second floor feature original gas lights and gothic chandeliers, intricate wood and iron work and even Rembrandt's portrait of George Washington. The charm of the rooms' peeling paint may be lost on old ladies, but it has managed to attract a number of artists and in recent years, most notably as the off-site location for the 2008 Whitney Biennial.
The main attraction is the 55,000 square-foot drilling room, which is where the carnival that kicked off the 2010-2011 season was held. Tall enough to accommodate a full-size ferris wheel, the drill room will play host to a full calendar of exhibitions and events over the next year, including Peter Greenaway's vision of Leonardo's "Last Supper" (Dec. 3, 2010 – Jan. 6, 2011), the Royal Shakespeare Company (July 6 – August 14, 2011) and Merce Cunningham's Dance Company (Dec. 29 – 31, 2011).