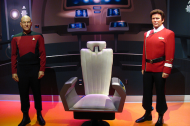 A sci-fi themed brothel will open in Nevada soon. Apparently somebody there got the crazy idea that sci-fi nerds need a little help getting laid.
2012 ushers in same-sex civil unions in Hawaii and Delaware.
But here's one reason not to tie the knot: Gay and lesbian couples pay thousands more in taxes, study finds.