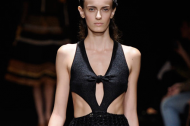 How did we rate what fashion powerhouses Calvin Klein, Proenza Schouler and Philip Lim sent down the runway?
Rag&Bone shows us how to rock the poncho with their tailored, fringed version, and Paula Abdul provides a regrettable how-to-most-definitely-not.
The walk through Lincoln Plaza from the street to the guarded entry of Mercedes Benz Fashion Week can be an intimidating stretch of pavement, lined with fashion bloggers and street style photographers snapping away. It's almost like fashion's final judgment day: make it all the way without getting your picture taken at least once and it's as if the gods of fashion are booming down, "Your outfit sucks!" See who our street style team deemed worthy enough to stop and shoot.