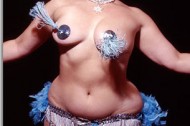 Nightclub-going New Yorkers owe a giant, heartfelt shout out to Rudy Giuliani. We should belatedly thank Rudy for his crackdown on "smut" and anything else that veered from traditional family values when he was a strict, disciplinarian mayor from 1994 through 2001. After all, it was that very gloss-over that led to an explosion of neo-burlesque sexual posturing in clubs all over town!
As porn shops were shuttered and escorts were driven to the Internet, loft parties and underground boites responded with strippers and other acts catering to everyone's sex drives by turning genital-related amusement into performance art. For every sex palace that was bulldozed and reopened as a comedy club, there were suddenly a dozen ecdysiasts popping up at the Lower East Side's hangout the Slipper Room and artful disrobers like Julie Atlas Muz and Dirty Martini were shaking their tatas for applause and dollars all over town. Thanks, Rudy!
But here's the really shocking thing: In 2010, neo-burlesque still rules the scene.