Bruce Sinofsky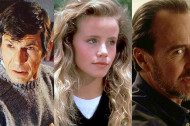 Here are just three acclaimed entertainers we'll miss: Wes Craven, Amanda Peterson and Leonard Nimoy.
(L to R) Academy Award-winning actress Charlize Theron with UN Messenger of Peace and primatologist Jane Goodall in season 5 of ICONOCLASTS. Produced by Sundance Channel and Grey Goose Entertainment. Sundance Channel and GREY GOOSE Entertainment® today announced the return of ICONOCLASTS for its fifth season. The critically-acclaimed program, described as "one of the best…
Meet Joe Berlinger director of CRUDE, an official selection in the Documentary Competition at the 2009 Sundance Film Festival.