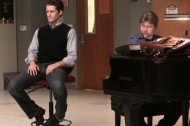 NPR has this interesting interview with Brad Ellis, the resident pianist on Glee where his official title is "Accompanist," although contrary to his silent on-show character, he's quite the conversationalist in real life. I noticed him early on in the show. He stood out because unlike the rest of the cast, Berklee College of Music trained Brad actually looked like a high school music teacher.
You ended up working on Glee because you knew the casting director, right? But you didn't know you'd actually be on the show.
Right. I'd worked with Robert Ulrich. He's a casting director, but he's also so much more. I knew he was extremely good at his job, quickly seeing inside actors to steer them towards the right parts. One of the things I'm good at is teaching people that singing is just one more way of using their voices. So I had been working with a lot of the cast members, especially Cory Monteith, who didn't have a singing background. And one day (creator) Ryan Murphy said to me, "You better get used to wearing all black." And I thought he was talking about my fashion sense.