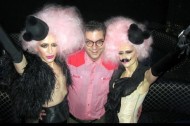 Photo by Brian Christopher Cummings
BonBon is by far the sexiest new club event in town and there's no sex at all at it. I didn't even see any light frottage!
But there's pure sex appeal in the air at the Tuesday night bash (at the supper club Juliet) because of the distinct absence of boredom from the guest list in favor of possibility, opportunity, and very high fashion. The every-night-is-Halloween crowd finds their way there, all dolled up to the nine-inch heels and ready to party till gay marriage is approved—or at least till 3 a.m. Factor in all the corsets, bodices, and facial masks in the room, and you'll realize that these fractured fairy tale creatures can't get it on because it would hurt too much—but no one's ever looked hotter while indulging in such (temporary) chastity.