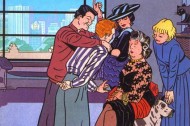 As a professional gay, um, hello, I write the gay column here, I have to say I like to pride myself on knowing that I am a wealth of gay knowledge. Oscar Wilde? Check. Cher and all her chart toppers? Check. Rock Hudson movies? Check. My pop culture references are gay, gay, gay: from Paris is Burning to France Joli to John Waters. I felt like I knew all homoculture.
Nope. Not all of it. For Wine/Bound, my monthly book club where we drink wine, we read the glorious gay novel Blue Heaven by Joe Keenan. Had I not only never heard of the book, but neither of its author. My book club mates were aghast! Simply aghast!
The book was published in 1988 and it's light reading. It follows two Manhattan homos and a few other female and female-impersonating friends through a madcap comedy of drinking, fashion, weddings, and the mafia. It's the kind of book that reads like a TV show, effortless, light-hearted, camp, fun. It is perfect Fire Island beach reading material.