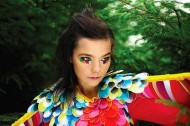 Angie Grant was a friend of mine in 9th grade. She had a blunt-cut died black bob and wore black and white striped tights with black Creepers. She stained her lip cherry red and idolized The Cure's Robert Smith.
At 15 Angie had found a look. She'd created a strong visual that invited ridicule and attention. I admired her greatly. And when i found out a few years back she'd died a little piece of me too also left this world.
I was thinking of Angie Grant this past weekend as I traveled to Iceland for the first time. Angie gave me Bjork's album Debut when we were high school kids. And it changed my world. It was one of those crystal-clear moments when you easily look back and remember finding a new world.