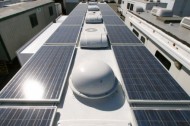 (Fe) Catalytic Clothing from Protein® on Vimeo.
We get a little more fashionable than usual in this week's green tech finds: from Linda Loudermilk's compostable bikini, to a cutting-edge design for an RV (really!), to air-purifying clothing.
The film set trailer goes green: King Kong Production claims its Helios Solar Hybrid Production Trailer can run a full day on the built-in solar and biodiesel generators. So, no fossil emissions from a pampered celeb who's late to set.
The sleek, all-electric RV: Okay, you likely never associate words like "sleek" or "cutting edge" with recreational vehicles, but NAU's Ecco Camper may just change that. (via Crisp Green)