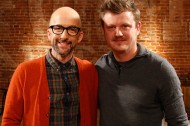 House of Cards creator Beau Willimon discusses his writing process, working for Netflix and predicting real-world politics.
Q: How is the US version of House of Cards different from the UK version?
A: The UK version aired in the early nineties, and both the world and television has changed a lot since then. You can look at the way that television has become, in a lot of ways, far more sophisticated, shows are digging into characters a lot more deeply. The British version was groundbreaking for its time because you had one of the first true antiheroes on television. But it's entire three seasons were 12 hours total, combined, and our first season alone was 13 hours.