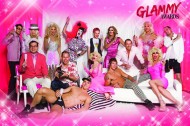 This year's Oscar telecast (set for February 26) has been on a hopeful track ever since they announced that an actual comic was going to be the host.
But even Billy Crystal can only do so much. All the stuff around him needs to be spruced up pronto to ensure that the whole Oscar machine doesn't become as obsolete as silent movies (except for THE ARTIST, of course).
And I know the answer.
For a lifeline, the producers need to venture into New York's wildest nightclubs and learn some valuable lessons about how to put on a show.