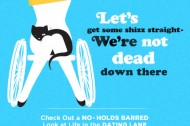 Unlike some of you out there (you know who you are), Push Girls aren't sitting around on a Saturday night in their jammies cramming their mouth full of Mallo-Mars and drunkenly crooning Barry Manilow tunes to their cats while applying zit masks to their faces (those apartment walls are real thin girl, real thin). Instead, our heroines are more likely to be found rolling around a local hotspot in heels, a pencil skirt and sizzle-me-till-Sunday lipstick with a trail of drooling suitors in their wake.
"How do they do it?" you ask, lowering your voice so no one can hear you. "I mean, for Chrissake – they're in a wheelchair! Okay, so their wheels are custom hot, but… what the hell? Can they even feel it down there?"
Oh, you silly girl. Can they feel it? Ha! Ladybird, they rock it. And trust: you could learn some tricks from them that'll get you out of that fuzzy onesie and onto the Push Girls' dance floor.