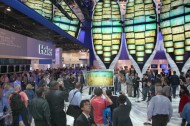 The mother of all electronics trades shows — CES — starts today, so lots of new on that front this week… plus another green Groupon, and hornets that harvest solar power.
CES' green cred for real?: CES is promoting itself as green this year; Heather Clancy at GreenTech Pastures and Matthew Wheeland at Greenbiz dig into the claims, and the impact, of the monster trade show.
Bob Marley comes to CES: The House of Marley, a company founded by the legendary musician's family, is debuting its eco-friendly lines of earbuds, headphones, and docks at CES.