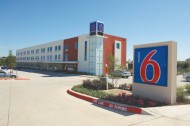 Infrared photography, a green Motel 6, and solar in the South Pole… this week's green tech finds.
Lower-carbon flying: Air travel is pretty energy and carbon-intensive, but GE's trying to make flying a bit greener with "software that will help pilots choose the most environmentally efficient flight trajectories taking into account conditions on four dimensions – latitude, longitude, altitude and time."
California's the green energy leader… right? Maybe now, but according to Alexis Madrigal at The Atlantic, Alaska and Hawaii may have some of the most innovative approaches out there for moving to low-carbon energy sources.