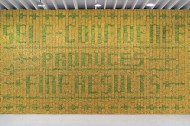 "Banana Wall" (2008) Click through for the 'after' image
Only Stefan Sagmeister could create an exhibition comprised solely of his commercial work and still call it art. "Another Exhibition About Promotion and Sales Material" opened recently at Lausanne's Museum of Design and Contemporary Appled Arts (MUDAC), showcasing only the designer's work commissioned by clients (as opposed to personal projects). The exhibition is divided into four parts and includes posters, album covers and advertisements divided into the following categories:
1. The Promotion of Culture
2. The Promotion of Companies
3. The Promotion of Friends
4. Self-Promotion/Promotion of Sagmeister, Inc.