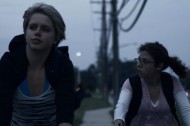 The world of film is changing. For one thing, there's not much actual film anymore. The future is digital; more and more, it's streaming on our computers, too. Every week in FYIVOD, we survey the landscape online movies to bring you a snapshot of what's available. This week, we're looking at high school ensembles, movies that have brought us fast times in the lives of American teens who left us dazed and confused.
THIS WEEK'S THEME: High School Ensembles
Why do we love high school movies? Maybe because high school is something everyone can relate to: we've all been there and we've all survived it — just barely. And why do we particularly love high school movies that feature large ensembles of characters? Maybe because we recognize that while everyone's high school experience sucked, no one's sucked in quite the same way. High school ensembles enable filmmakers to capture the diversity of teenage life in all its splendor and awkwardness. Here are five of the best. But as you gorge yourself on all these great movies, just remember to take a break once in a while. Life moves pretty fast. If you don't stop and look around once in a while, you could miss it.