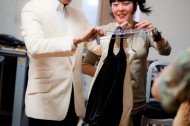 Deciding to work with Gemma Kahng was a no-brainer. She was, in my mind, a creative fashion force that may have dimmed over the last decade or so, but had the potential to shine bright again. This wasn't just an assumption; it was a fact.
You see, Gemma had already tasted the success I try so hard to help the designers attain each week.
I met Gemma Kahng back in the early 1990′s when I was just starting out as an assistant for Polly Mellen at Allure magazine. Gemma was one of those names that were always tossed out whenever Mrs. Mellen was conceptualizing her shoots and needed clothing called in. This was commonly heard at her run-throughs: "What about those incredibly chic suits from Gemma, Joe?"
Obedient, I would head up to Gemma's headquarters at 550 7th Ave — a landmark garment district building that houses the showrooms of only A-list designers, among them Ralph Lauren, Donna Karan and Oscar de la Renta. Gemma's vast showroom there would have plenty of staff buzzing about and racks and racks of her new collections. She was the game back then.
In those days, Gemma was everywhere. I remember seeing her clothes make the cover of Vogue worn by supermodel Christy Turlington and a year later, it would be a butt-exposing jumpsuit worn by Madonna in the pages of Vanity Fair. And her clothes would fill the floorspace of every major department store from Bergdorf Goodman to Bloomingdale's. To say Gemma was successful back then is selling her short.
Then one day it all just disappeared.