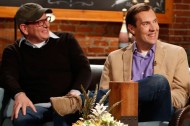 Smallville creators Alfred Gough and Miles Millar discuss their writing approach, the controversial departures they made from the Superman comics and the impact of Christopher Reeve.
Q: You guys have worked together a long time. How did you discover your mutual love for Superman?
AG: We were actually approached by Warner Bros. Television where we had an overall deal. We didn't approach Smallville as comic book geeks since neither of us had ever read a Superman comic. Rather, we came at it as outsiders who wanted to make a show for the fans and the uninitiated alike.
MM: My first real exposure to Superman was Richard Donner's movie in 1979. We have since worked with Donner on Lethal Weapon 4, but I remember thinking the movie was kind of boring. However, I really loved Superman II. I had the poster for Superman IV: The Quest For Peace on my bedroom wall when I was a kid — but I'm not sure that is a good thing.
Q: Smallville stirred up a lot of controversy with hardcore comic book fans devoted to the original. How did you guys deal with that?
AG: Like all writers — we tried to avoid it as much as possible! We stopped reading Ain't it Cool News where we were being burned in effigy everyday, and didn't go to the San Diego Comic-Con until Season 2.
MM: Listening to fan boys is tiring, frustrating and ultimately futile. Smallville began at the dawn of the fan-forum era — we used to scan the posts to get a sense of the general feeling, but that's it. If we did course-correct a storyline it would be because the fans' sentiment mirrored our own. The truth is the so-called "hardcore fans" will find fault with anything and everything. We had no interest in following the established mythology of the D.C. universe or aligning our timeline with theirs.