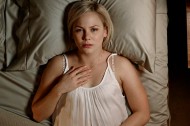 RECTIFY's Adelaide Clemens (Tawney Talbot) talks about how she relates to Tawney and trusting people before judging them.
Q: Are there aspects of Tawney that personally you relate to?
A: There are so many traits of Tawney that are very similar [to me]. I think she had to think for herself a lot in her childhood and also find community. She grew up as a foster child, so the church is literally a source of stability and a community and something to latch onto. Just personally, from moving around a lot, wherever community is offered, I'll take it.
Q: You've played characters with a darker side in movies like Generation Um… and The Great Gatsby. Has it been fun to play a less jaded character?