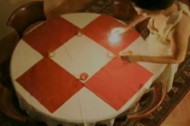 We scoured the pages of Kickstarter to bring you this week's best projects. Have a great Kickstarter project of your own or see one you think deserves some extra attention? Let us know about it the comments and we may just feature it in our weekly roundup.
FILM
SEFF Student Experimental Film Festival: Help rising student filmmakers work out their freaky inner psyches at an Experimental Film Festival in upstate New York. Granted, half the submissions will probably make you want to poke out your eyeballs (or will be about poking out eyeballs), but hey, it's creative expression, okay?
ABACUS at Sundance: A team of 12 artists collaborating on a large-scale multimedia installation called ABACUS was recently invited to perform at our very own Sundance Film Festival. From what we can tell by their preview video, the presentation involves a lot of lights, loud sounds, flashing screens and possibly someone in a panda suit. What's not to like?