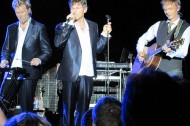 Growing up gay in the 1980s I often listened to techno-pop in my room and dreamed of escaping. The souring falsettos of bands like Erasure, Depeche Mode, Pet Shop Boys, and a-ha kept me grounded back then. I escaped into music.
Unlike the other aforementioned bands, a-ha all but disappeared from American radio and record store shelves by the 1990s. But not so in the rest of the world. In the 2000s the band scored massive hits all over Europe. The Norwegian supergroup remained relavent everywhere else across the globe. With synth stabs and the Morten Harket's soaring falsetto, the greatest pop's ever seen, the band made infectious and tightly-produced records.
At their New York show this past Saturday night the band did not disappoint.